People love cute love stories and even if you are not a fan of rom-coms, a good love story could just strike the right chord.
After the recent release of Dinner At My Place, Nollywood brings yet another rom-com, Cake; a title that calls for curiousity or better yet awakens one's craving for cake.
Directed by Prosper Edesiri, Cake follows the story of a young baker, Tomiwa (Tope Tedela) who hopes to find a wife so that he can fulfill the wish of his late mother.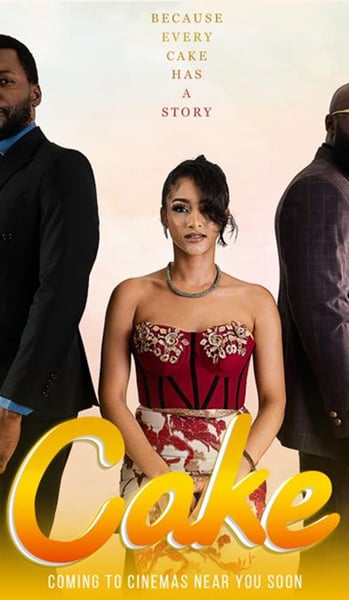 Apparently, his mother told him his bakery would bring him love and it somehow does, materialising in the form of Chalya Walshak (Sophie Alakija), a sweet-faced, naive and beautiful lady, who sweeps Tomiwa off his feet at first glance.
However, somewhere along the line, he finds out that Chalya is engaged and this totally destabilises him before he formulates an elaborated plan to win her over with the perfect cake.
The rest of the movie pretty much covers Tomiwa's half-baked plans to snatch another man's fianceé right from under his nose.
I kind of liked the movie based on sentimental reasons and in a kind of way, it helped me remember that light can be found in the darkest of places if only we turn it on.
The movie did well in terms of cinematography, costume, and this lush beautiful scenery that is capable of transporting any sadist into realms of beautiful rainbows and exquisite cupcakes.
I also must applaud the casting; most of the actors performed well even though they almost could do nothing to raise the movie to the sphere of what we expect.
I want to say the scripting was good but maybe the delivery of those lines by some actors is what is making me keep my hands akimbo and head bowed in conflict because quite frankly I did think they really took time on this script. The delivery was sorely lacking, Tedela being the main culprit.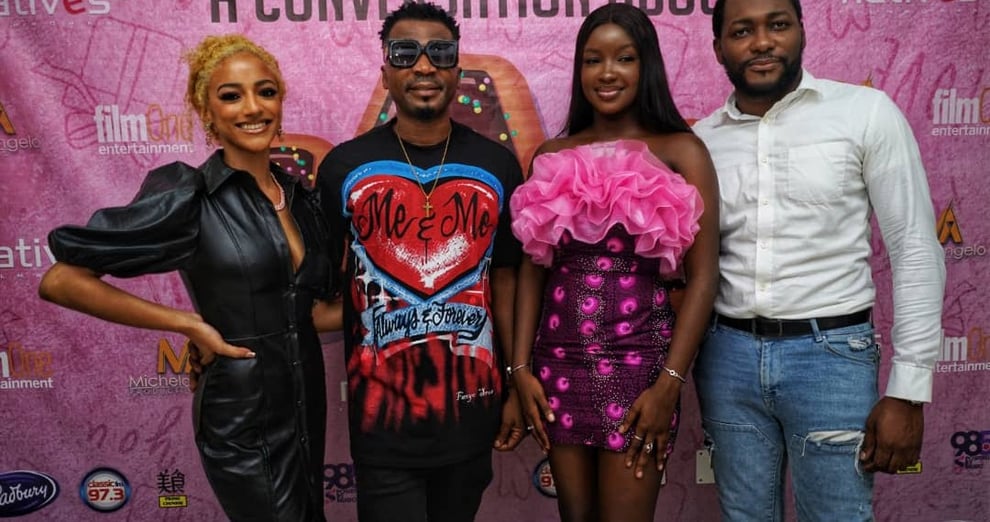 The movie title quite literally is the only thing of delight and before it reaches midway, it is clear that it has nothing much to treat the audience to.
The title of the movie itself will make viewers inquisitive about what the rom-com has to offer. Will it be about sharing cake recipes to make for loved ones?
Would it be a story of redemption for someone who uses their cake skills to better their life? If this was even the case, the entirety of the movie wouldn't turn out to be this predictable and somewhat bland.
The movie is basically just a half-hearted venture into the delectable world of rom-coms and a painful-to-watch waste of food as Tomiwa's 'huff and waste away' cake batter in his bid to make the perfect cake, leaving viewers with a confusing story.
Cake's strength doesn't stretch beyond anything other than its nuance to make viewers crave pastries (especially a piece of cake); at least, I did.
The film is a mockery of everything that makes a rom-com– a lovable lead character. There was little or no tension between the lovebirds and one of the most important, finding balance in comedy and romance.
The 1-hour 45-minute movie fails to retain interest or whip up a bone of contention throughout its entirety. It also lacks any semblance of sincerity and delightfulness that is typical of its genre.
For the most part, the actors impress but the lead actor Tope Tedela fails to rise up to the occasion.
Personally though, on a whole, I liked it, again for sentimental reasons, but I'd agree that Cake falls short of the bar the Nigerian movie industry has built for the rom-com genre over the years.
I give it a 5/10.