Chief Daddy 2: Going For Broke sees the return of our much-loved dysfunctional Beecroft family and things aren't looking up for the avaricious, quarrelsome family.
Almost synonymous with its prequel, the sequel tells the story of the titular deceased billionaire whose family, friends, and staff scramble to get a share of his wealth.
This new movie, however, attempts to shift focus to the new and unexpected addition to the already large family, who surprisingly turns up as the CEO of the late chief's company and is hell-bent on stopping them all from getting their hands on the inheritance on the grounds that she has been ignored all her life by her family and her father also omitted her from his will.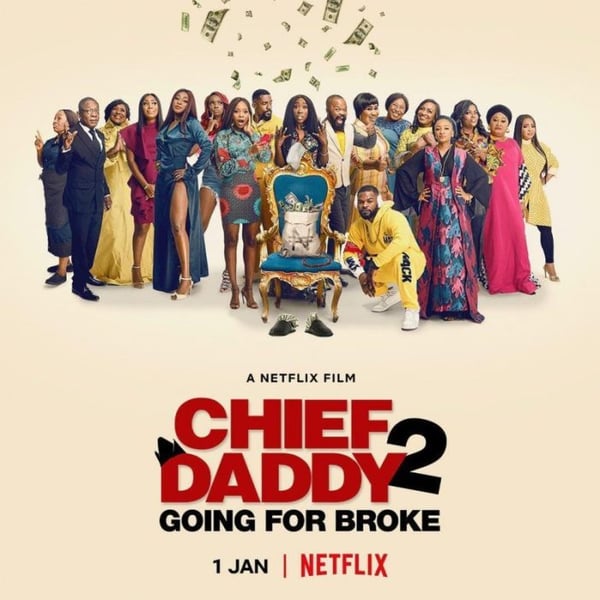 Although an illegitimate child, she does possess genuine legal claims and this spells the beginning of another tirade of family drama and comedic quarrels.
The movie stars the likes of Joke Silva, the late Rachel Oniga, Folarin Falana, Shaffy Bello, Funke Akindele, Ini Edo, Kate Henshaw, and many more outstanding actors.
This sequel was directed by Niyi Akinmolayan and written by Bode Asiyanbi.
We all had high hopes for the highly-anticipated sequel to the widely-accepted Chief Daddy. We knew there was definitely going to be a sequel as soon as we saw a new faceless figure appear at the end of the first part, waiting with bated breaths for the concluding part.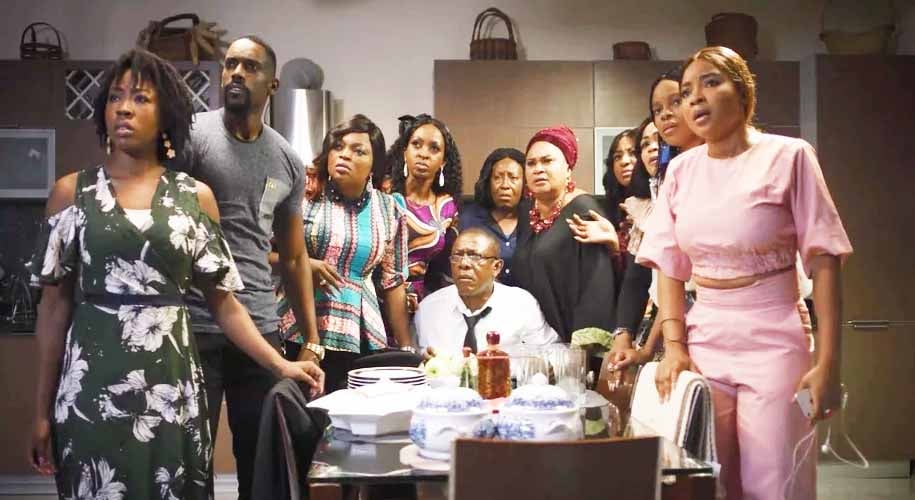 It came 3 years later but Netflix's Chief Daddy 2: Going for Broke seems to have sunk decades of progression made by the Nollywood industry with just one fatal blow, thanks to its poor storyline, cringe-worthy acting, and distasteful scripting.
It seems to have lost its touch of humour and consistency, becoming rather confusing for viewers. It almost felt as if the producers, Mo and Temidayo Abudu, were in a hurry to make the sequel rather than create a solid and believable storyline for it. It was as annoying as it was confusing.
Another notable fail is how they tried way too hard to create sub-stories for each character and lost the main story in the process. It was a classic example of losing gold while chasing stones.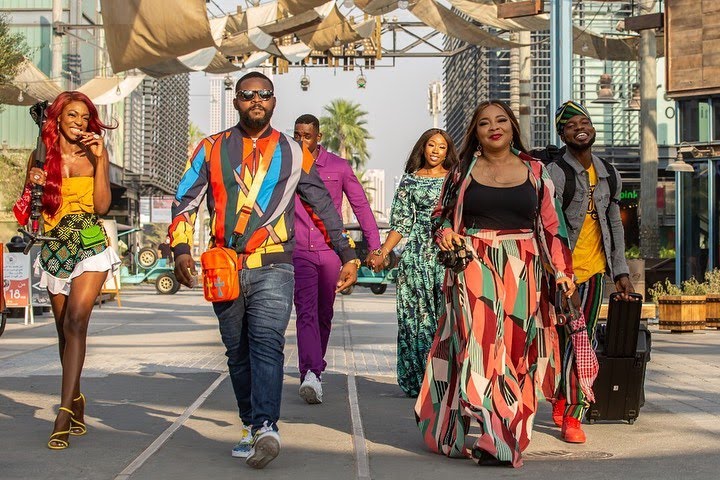 For most of the movie, the main antagonist is completely forgotten and only resurfaces in bits and parts which makes us wonder why a second part was even entirely needed in the first place.
Furthermore, if I didn't know these actors before this movie, I'd class them as amateurs at best, but with the readily available basket of talents at their disposal, I felt they were grossly underused and it was very very painful to watch.
The scriptwriters too are not let out of this backlash as most of the problem is directly from them. Simply put, the story lacked an actual story.
The Chief Daddy franchise's main message is one that Dominic Toretto never fails to reiterate; the most important thing in life will always be family.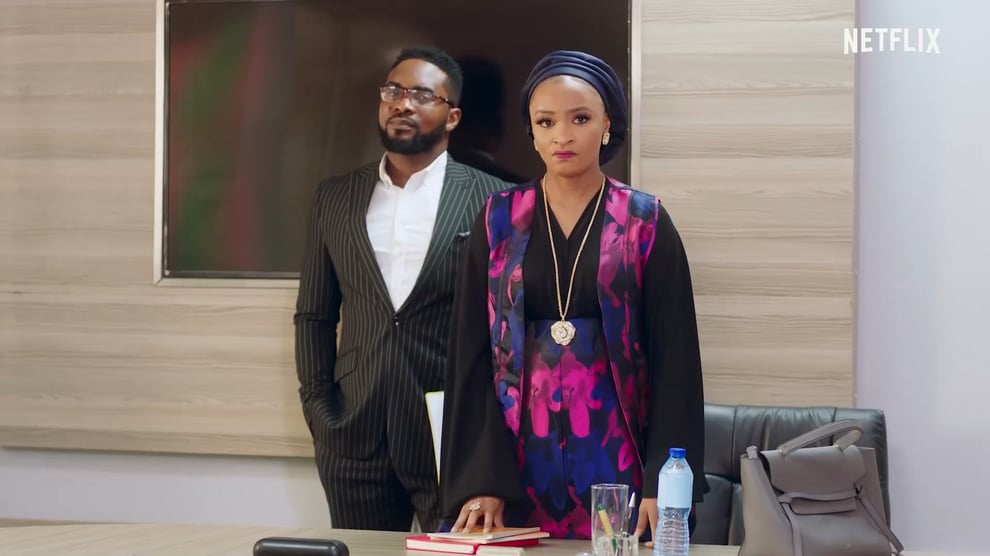 The film's basic theme revolves around family dysfunctionality within the Beecrofts, but Chief Daddy 2 fails to strike the chord we plainly expected from it. The director and writers have given the movie some absurd subplots which seem to have no relevance or justification, and this is topped off with hysterical acting.
The film falls short of focus and storyline, unlike the original that was unique, hilarious, and entertaining. Despite its star-studded cast, the comedy-drama has an unnecessary sub-storyline and viewers will rarely see these famous faces in this sequel.
Remi Castle's role was downsized from that of a lawyer to a dumb pity party member of the family.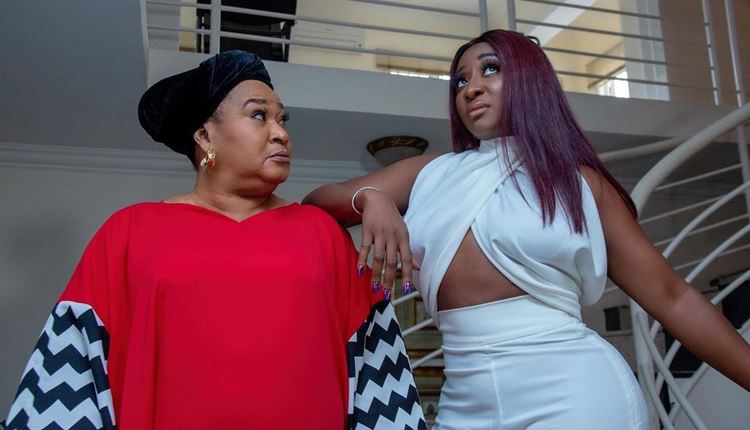 Chief Daddy 2: Going for Broke also lacks coherence in its storyline and character roles, like why Ireti and Dami Baggio were not as kind, how Tinu and Teni started a joint business with Nike Williams, and their love triangle with the lawyer. None of it was cleared up in the sequel, which made things even more confusing.
Ini Edo, Nkem Owoh, and Patience Ozokwor were almost non-existent in the film.
We can't fail to point out that the cinematography was excellent and the lush locations and attires used are something to be envied. The directing stood out too, only the terrible scripting made it cringy.
On the whole, this is just a movie to watch when you barely want to pass time as it falls short of our expectations.
My take? Skip IT.
Rating: 3/10.
Review by Odunayo Damilare Daniel.