An unidentified man has reportedly begged for forgiveness after being caught red-handed for stealing bunches of plantain in Sagamu, Ogun State
A Facebook user, One Ologe Clement said the suspect was caught on Wednesday morning, September 27, 2023.
"THE COUNTRY IS HARD… PLANTAIN THIEF WAS CAUGHT THIS MORNING IN SAGAMU, CLAIMING HE HASN'T EATING FOR DAYS… what should be his punishment Drop your comment in the the comments section," he wrote in his Facebook post.
The video triggered massive reactions as commenters took to social media to share their thoughts.
"Leave him alone Jo it's the condition of the country that causes all this shit…. Yesterday morning I saw a lady like a woman moving round my area she later came to me for assistance see I pity her and try my best oo but the Condition of this country is worst bro," Comrade Adeleye Samuel Alaba wrote.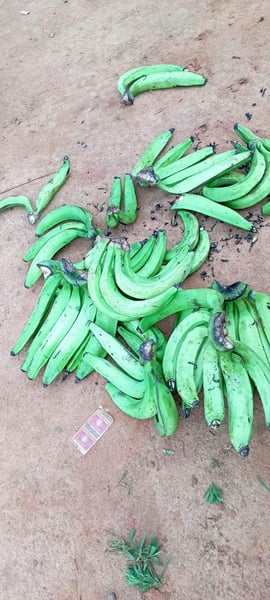 "It's well, bro, if you people have passed judgement on him no wahala, but if not make una leave the guyman make him dey go, the country choke abeg,na who know go understand…", Friday Sonofgrace Emmanuel wrote.
"Is stealing the only options he has? Well to err is human forgiveness is Devine, let him go ND steal no more… Una fit dash ahm d plantain too, cuz this our economy isn't a hopeful one," Shantel Dainty II wrote.