Nigerian singer Bad Boy Timz has expressed regret and sorrow over the passing of fellow artiste Mohbad.
In an Instagram post, Bad Boy Timz revealed the depth of his grief and emotional turmoil following the death of the singer.
The singer conveyed his inner turmoil, explaining that he found it incredibly difficult to forgive himself enough to attend Mohbad's candlelight night.
Instead, he opted to take his pain to church, seeking solace in his faith.
"I can't even forgive myself enough to attend you candle night. I took it to church. Imole de, okunkun parada," he wrote.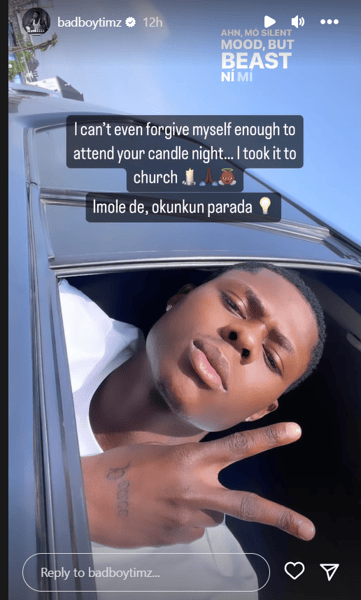 The candlelight procession took place on Thursday night at Muri Okunola Park in Victoria Island, Lagos, at around 8 p.m. to pay tribute to the departed musician.
However, the peaceful gathering took a disturbing turn when sympathisers who later moved to the Lekki tollgate area around 11 p.m. were reportedly met with tear gas and dispersal tactics.
In a video shared on Twitter, a popular skit maker known as Oluwadolaz claimed that the crowd had been dispersed with tear gas.
A separate video revealed one sympathiser with his right leg covered in blood, allegedly after being shot at by the police during the incident.