Osun State is a region in the Southwest known for its many tourism, cultural sites and attractions.
The state has not really gained from this nature's gift that is bestowed on it. This may be due to government neglect and lack of investment in the sector.
As it is, there are several tourist sites in Osun that can be explored to the maximum by both state actors and private investors for its economic boom but they have been abandoned and left to rot.
The above is because those in authority are more concerned about the perks of staying in office and what they stand to gain individually than being involved in developing some of these sites.
Successive administrations in the state have in one way or another demonstrated half commitment to the development of tourism in the state with most concentrating on using some cultural festivals in the state to blow their trumpet of how their administration has helped in the development of the sector only to forget it when the euphoria of such festival dies down.
Tourism sites are abundant in Osun and some of them include the Osun-Osogbo sacred Grove, Osogbo, Erin-Ijesa Waterfall, Oduduwa Grove and Shrine, Ile-Ife, Ayikunugba Waterfall, Oke-Ila Orangun, Nelson Mandela Freedom Park, Osogbo, Ooni Ife palace, Nike Are Gallery, Osogbo, Kiriji battle war sites, Moremi Statue of Liberty, Ile-Ife, National Museum, Ile-Ife, Obatala Centre for Creative Arts, Ibodi Monkey Reserve, Oranmiyan Staff, and the Owa Obokun Statue, Ilesa.
Moreover, there is no way you would step your toes into the state if you lack a passion for visiting interesting historical places that the state has been endowed with ever since its existence.
This piece seeks to explore 10 interesting places you can visit in this state to have a great adventure during your stay.
Owa Obokun Statue, Ilesa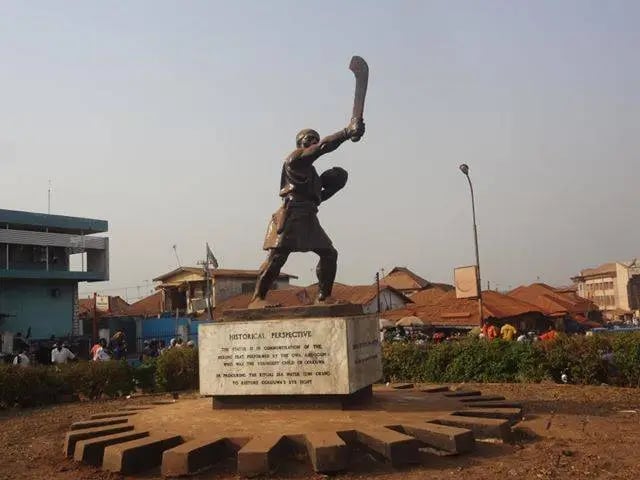 The Owa Obokun Statue is a statue situated at Ilesa Roundabout in Osun State, Nigeria.
The monument tells the tale of a blind King whose son was tasked with bringing the water of life so that his father might restore his sight.
He spent months making the tiresome journey to obtain the water. After succeeding on this journey, his father was still alive when he got home, despite the fact that he had been declared dead on the way back.
In his excitement, he cleaned his eyes with the water of life, which helped his father regain his vision. This resulted in him becoming the King of Ilesha, and his statue today serves as a reference to the world about how the Ilesha king was crowned.
The statue also portrays the significance of the sword and the calabash he carried alongside the sword he raised represents defence, which he uses to fight every battle in the land and the calabash represents the water he went to fetch for his father.
Ooni of Ife Palace, Ile-Ife
Ooni of Ife Palace, the epicentre of Yoruba history and culture, is noteworthy. The place contains fantastical objects and serves as a historical landmark.
The palace also serves as the traditional monarch's home and court. In the historic city of Ile-Ife.
Nike Art Centre, Osogbo
Nike Art Centre is located in Osogbo, Osun State, situated at Old Ede Road. Other names for it are Nike Centre for Arts and Culture and Osogbo Ilu Aro.
It is a place where all visitors can receive free instruction in a variety of arts, including painting, batik, dancing, sculpting, theatre, quilting, and more.
Over 3,000 Nigerians have received training at the centre, which was initially a shelter for vulnerable women and young people, and are now making excellent use of what they learned.
Though most of it is now relocated to Lagos and Abuja, the root of the success of the gallery can always be traced to Osogbo.
Erin-Ijesa Waterfalls, Erin-Ijesa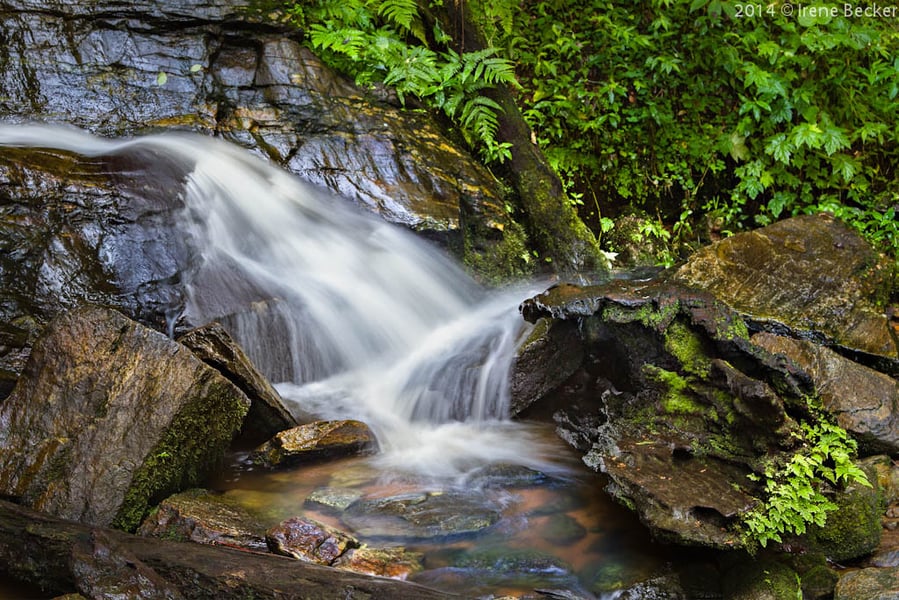 Olumirin Waterfall is another name given to Erin-Ijesa Waterfall, which was named after the town of "Erin-Ijesa". It is located in Oriade local government area, Osun State, Nigeria.
It is a magnificent waterfall with seven levels of rocks, and it is one of Nigeria's most significant waterfalls that is calm and refreshing.
The Erin-Ijesa Waterfall has been a tourist excursion for residents, schools, and natives around the place, while some regard the waterfall as a means of sanctifying their souls.
Obatala Centre for Creative Arts, Iragbiji
Obatala Centre for Creative Arts was built in 1987 by Chief Muraina Oyelami, the Eesa of Iragbiji (traditional Prime Minister).
It was built to showcase the rich cultural heritage of the Yoruba people.
The Obatala Centre for Creative Arts serves as both a gallery and a museum, housing a variety of works of art and keepsakes as well as items from previous eras.
Oduduwa Shrine and Grove, Ile-Ife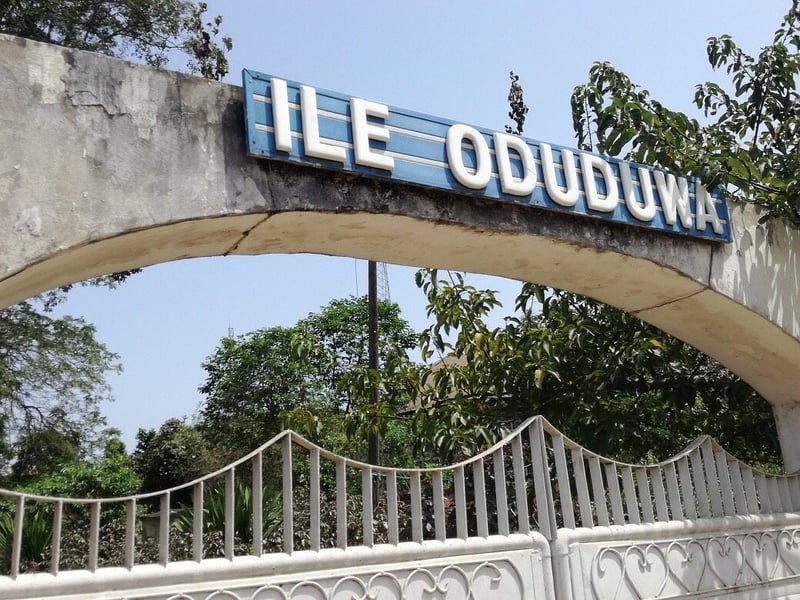 Oduduwa Shrine and Grove is a historical location of Oduduwa World Temple and Grove.
It is significant since it served as both his ultimate resting place and the location where the fabled ancestor of the Yoruba people in Nigeria founded the ancient city of Ile Ife.
Among the remarkable elements of this historic location are a statue of Oduduwa with the chain and staff, his final resting place, and an organically carved-out map of Africa.
Ibodi Monkey Reserve
Ibodi Monkey Reserve is a monkey forest located in the Atakumosa West Local Government Area of Osun State, Nigeria. It is also known as Igbo Edun by the natives of Ibodi.
People believe that the monkeys came to Ibodi with an Oba of the town and the Araomofe spirit from Ile Ife.
It is also rumoured that the monkeys emerge around dawn to interact with guests, villagers, and everyone else.
Oranmiyan staff, Ile-Ife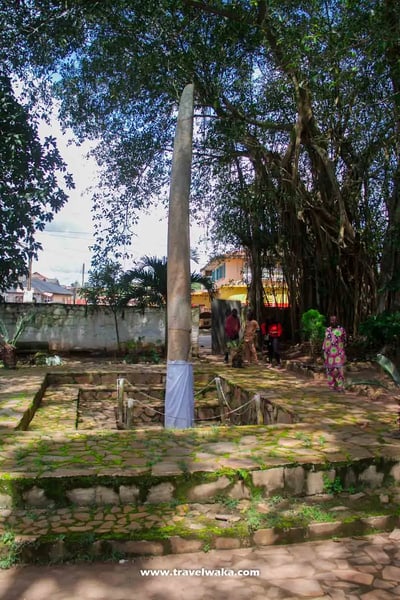 The Oranmiyan Staff is one of the most visited tourist destinations in Ile-Ife, Osun State, Nigeria, and is around 18 feet tall.
Due to the history, story, and myth surrounding the Oranmiyan Staff, it is said to have played a vital role in connecting Ile Ife to Benin and the Oyo Empire.
He was a great traveller, a warrior who loved taking territories.
Moremi Statue of Liberty, Ile-Ife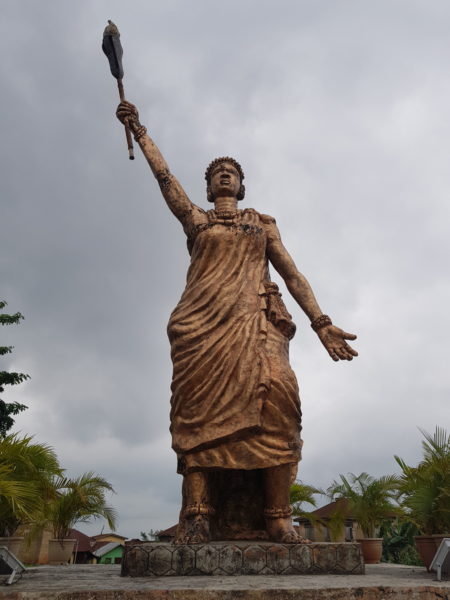 Queen Moremi Ajasoro was honoured by the construction of the Moremi Statue of Liberty at Ile-Ife, Osun State.
She is remembered as a heroine who helped her people defeat their adversaries and save them from the clutches of tyrants.
The statue is 42 feet high and is the tallest statue in Nigeria and the fourth tallest in Africa.
Osun-Osogbo Sacred Grove, Osogbo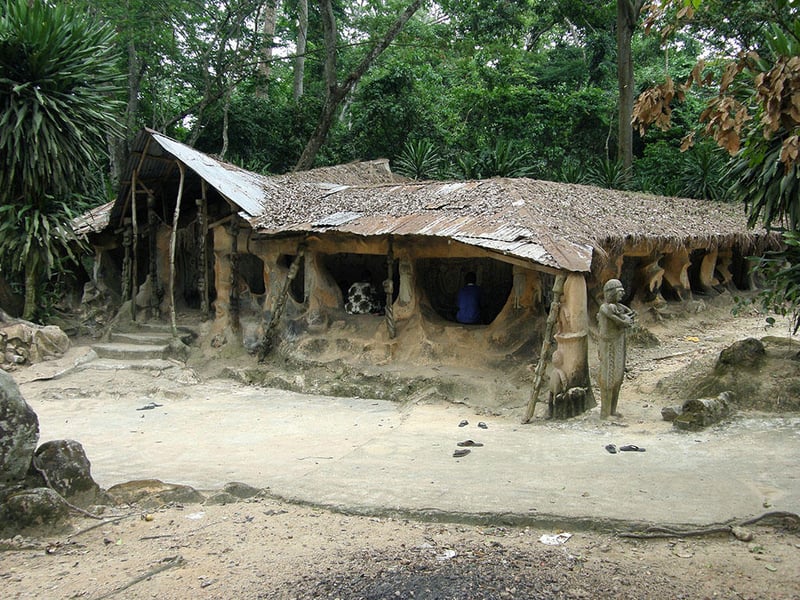 Osun-Osogbo Sacred Grove, which is many centuries old, is regarded as the residence of the fertility goddess Osun and one of the pantheon of Yoruba gods.
The environment of the forest and its meandering river is littered with sanctuaries and shrines, sculptures, and art pieces in honour of Osun and other deities.
The grove is located on the outskirts of Osogbo and is also one of the ancient forests that are still in existence in southern Nigeria. It is seen as a symbol that portrays the Yoruba people's identity.
The Sacred Grove was listed as a UNESCO Category II, World Heritage Site in 2005 in consideration of its importance to humanity and its cultural significance.
The National Museum, Ile-Ife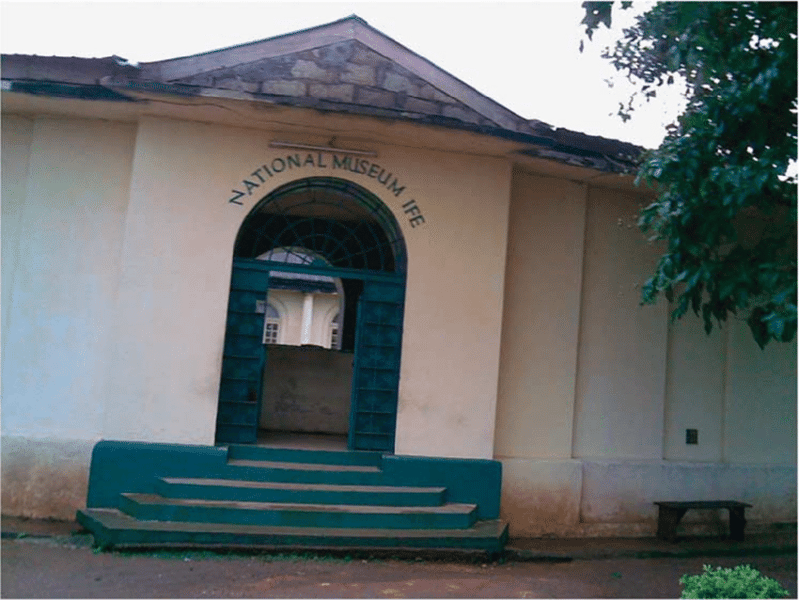 The National Museum, Ile Ife is one of the well-known tourist destinations in Ile Ife. The Ooni of Ife Palace is next to the museum.
The National Commission for Museums and Monuments is in charge of its own on behalf of the Federal Government. It is an archaeological museum where certain artefacts found on Ile Ife are on display.
Both ancient and modern artefacts can be found at this museum, which includes images of some historical events in Nigeria as well as archaeological digs, ceremonial attire, and antique artefacts.