Police in Kanungu District has arrested a radio station manager for assaulting a female journalist at the same station.
Anita Tumuramye, a female Kanungu FM presenter, was allegedly assaulted by her manager, Nelson Kagote Twinamatsiko, when she sought her commission for an advertisement she delivered to the radio station.
According to Tumuramye, she got the advertisement on January 26, 2023, for Shs200,000 (N24,999.19) in cash, and was entitled to a Shs40,000 (N4,999.84) fee following the station norms.
She claimed, however, that after registering the transaction, Twinamatsiko refused to give her commission.
She alleged that when she went to ask Twinamatsiko about her commission, he struck her in the face, causing her nose to bleed.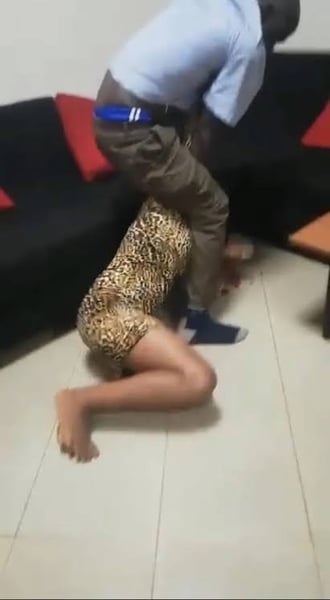 Twinamatsiko, she said, continued to drag her to the ground while beating her.
"I could not walk to the police that night for fear of my life.
"The next morning, I went to the hospital for treatment and got the medical form which I took to the police.
"He beat me mainly because I demanded my money from him," she said.
Elly Maate, the Kigezi regional police spokesperson, confirmed Twinamatsiko's arrest and stated that inquiries into the matter have begun.
"Reference to the video circulating, where a lady is being beaten by a man, it was reliably established to have been at Kanungu Fm Radio station.
"The victim, Anita Tumuramye, 24, a journalist at the same radio station and resident of Katate cell western ward Kanungu town council, reported to have been assaulted by one Nelson Twinamatsiko, 51, the manager at the same radio station and resident of the same above address," Maate said.
Maate stated that following the event, the victim reported the incident to Kanungu police station under CRB 094/2023, where testimonies from her and witnesses were taken.
"The Police visited the scene of the crime and documented details, investigations were carried out and the suspect was summoned to record his statement on Wednesday after which he was detained pending prosecution.
"A Case file was compiled and forwarded to Resident State Attorney with the charge sheet for further management," he said.
According to Tumuramye, her woes started when Twinamatsiko was appointed the manager, relieving her of various roles she was playing at the station.
"At first I was working as a cashier, receptionist, news anchor as well as a radio presenter at the same station.
"When Twinamatsiko was appointed the manager, he relieved me of my cashier and receptionist roles.
"But he never stopped there, he kept chasing after me and I only remained with only one role of a news anchor," Tumuramye narrated.